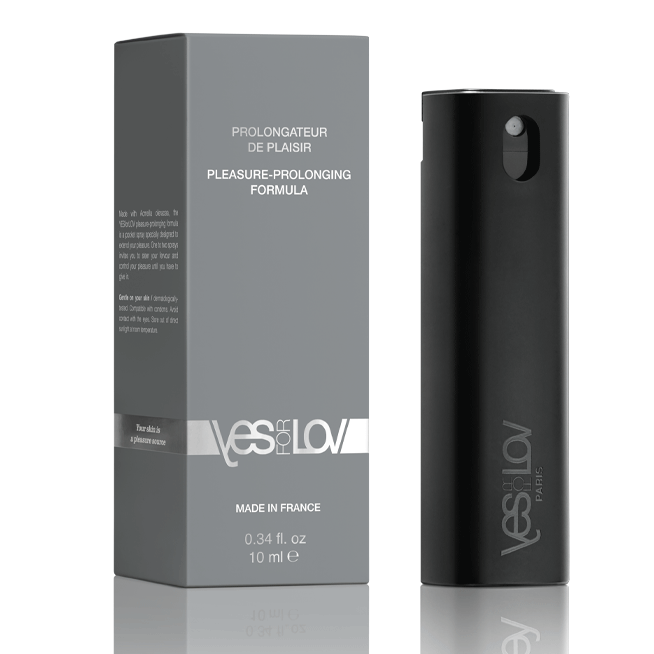 PLEASURE-PROLONGING FORMULA
YESforLOV

This handy delay spray by YESforLOV ensures more intense and prolonged love making. It allows you a better orgasm control while maintaining full pleasure. The innovative composition of this prolonging passion spray is water-based and causes exciting heat and cold waves after application.
At the same time, it desensitizes the sensitivity of glans and penis without numbing them. This allows you a prolonged stimulation of your penis. Boost your desire and enjoy your partner more intensely. With the aid of PLEASURE-PROLONGING FORMULA you have better control over your orgasms and you are able to delay them.
The vegan active agents, which are based on various plant extracts, have an aphrodisiac effect and stimulate the blood flow. They can also reduce an oversensitivity of the glans. The spray has a mere hint of cinnamon scent, absorbs quickly, is non-sticky and leaves no residue. The delay agent is also safe for oral pleasure and the use of condoms and sex toys.

APPLICATION
The stimulating premature ejaculation spray is travel-sized and perfect to slip into your purse. The pump bottle is protected with a lid from leaking out:
Press the top of the pump 1-2 times and apply the spray from a distance of ca. 20 cm on glans and penis 5 to 10 minutes before they enter the vagina. As soon as the formula is completely absorbed, you can begin your amorous adventure!
INSTRUCTIONS FOR USE
stimulating orgasm delay spray
reduces an oversensitivity of your penis

mindert die Überempfindlichkeit Deines Penis

vegan

water-based

non-sticky, leaves no residue
with stimulating natural ingredients

can be used for oral sex

compatible with condoms and sex toys
dermatologically tested
Content: 10 ml (sufficient for about 60 applications)
INGREDIENTS

AQUA, ALKOHOL, PROPANDIOL, ACMELLA OLERACEA-EXTRAKT, ETHYLMENTHANKARBOXAMID, MENTHOL, ZIMTKASSIA-BLATTÖL, EUGENIA CARYOPHYLLUS-KNOSPENÖL, MELALEUCA ALTERNIFOLIA-BLATTÖL, ZIMT, EUGENOL

Get more informations about YESforLOV.